Animal Ag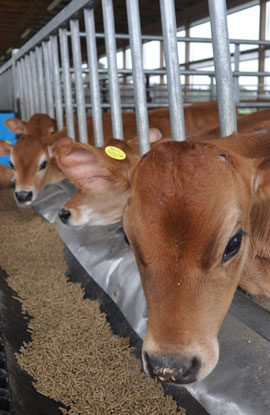 Why is animal agriculture important to soybean farmers?
Animal agriculture is the No. 1 customer for U.S. soy, consuming 97 percent of the meal from U.S. soybeans. This soybean meal provides an excellent source of protein and amino acids to feed chickens, turkeys, hogs, cattle, farm-raised fish and other animals across the United States.
Soybean quality matters, even after it leaves your farm after harvest. Learn more about the importance of soybean quality beyond the elevator for livestock producers and soybean farmers alike.
Impact of animal agriculture in New Jersey
In 2013, New Jersey animal agriculture used an estimated 11,000 tons of soybean meal, which is the meal from more than 456,000 bushels of soybeans. Egg producers accounted for 77 percent of that total, while milk production used 11 percent.
Animal agriculture in New Jersey represents $121 million in economic output, $20.6 million in household income and 662 jobs. It yielded an estimated $5.3 million in income taxes and $55.2 million in property taxes.
Learn more about the impact of animal agriculture in New Jersey.